Last year, I promised myself that I would do three things:
1. Take more picutres
2. Write more
3. Learn Learn Learn!
I didn't imagine that I would engage in those three things to the extent that I actually did. I'm just getting my feet wet with photography and all the constant learning that goes along with it, but I am truly enjoying what I have done so far. Networking has been difficult for me being that I am on a different continent than the photographers have inspired me and answered so many of my questions. But I have been fortunate enough to get in touch with some friendly and helpful people that I hope to someday meet.
Since it's New Year's Day, I thought it would be appropriate to show a big part of what Japanese do for this special day. They go to their local shrine and give thanks for a wonderful year and pray for a successful upcoming one.
This is the big shrine in my neighborhood. You have to walk these steps as part of your journey to get there:



Once you have arrived to the top, and before you can enter, you must wash your hands and mouth out with this water (which was freezing!) as a sign of respect...





Around the shrine, you can find these brightly folded origami cranes. Many believe if you fold 1,000 of them, you will be granted a wish. Many people fold them when someone gets sick, to pray for their recovery.





These are wooden prayer tablets. Hopeful people write their dreams, wishes, and prayers on the tablets and hang them at the shrine for the priests to bless. I have filled some out in the past as well.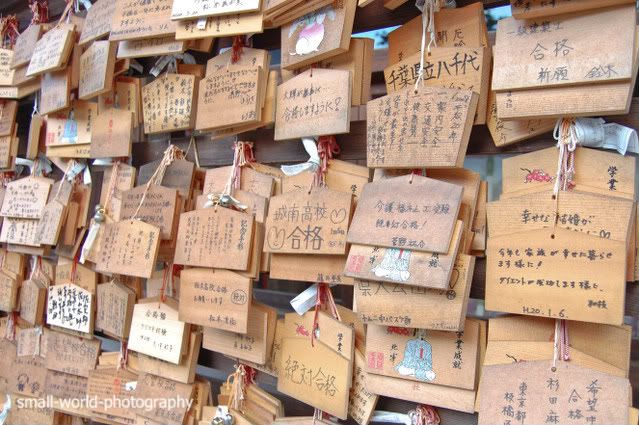 These red gates are called "tori" and are found in front of shrines. This particular shrine had a bunch of them layered all the way down towards the smaller shrine.





This year I hope to do a lot more. Within the next few months I want to:
1. Get my own head shots taken (a blog is not complete without one!)
2. Get media access to a sports event to get some action shots (workin' on that now)
3. Attend at least two workshops or follow a pro.


Now that my lesson on shrines is finished, Happy New Year! :)